While the idea of an underground city may seem far-fetched and futuristic, they have actually been around since ancient times. Today there are hundreds of underground cities and shopping districts throughout the world. One of the most famous underground city is called RESO in Montreal, Canada. In Toronto, the PATH underground city is the largest underground shopping center in the world. It includes 4 million square feet of retail space and over 17 miles of connected walkways.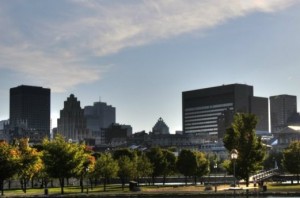 Future of underground cities
There are still plans for the development of more underground cities today. There are many reasons for building underground cities including safety against natural disasters and war. Underground cities are also ideal for very cold climates where the belowground cities offer a stable core temperature year-round.
Challenges of underground cities
There are many challenges that come with the development of underground cities, including the lack of natural sunlight. When people are not exposed to light from the sun, they can develop sleep disorders and Seasonal Affective Disorder (SAD). This is because the light from normal light bulbs does not have the same luminosity as light from the sun.
Using blue light to combat SAD
One way that future underground cities will combat SAD and sleep disorders is by using blue light. Blue light therapy involves the use of specific wavelengths of blue light found in the spectrum of sunlight. These wavelengths have been shown to have a positive effect on people who are light deficient. It works by stimulating the hypothalamus, which in turn suppresses melatonin (the sleep chemical) and increases serotonin (the feel-good chemical). By using these blue lights in underground cities, people won't have to worry about getting outside to get the necessary sunlight to function during the day.